Video is currently one of the most popular online content formats. But getting it right, especially as a business, is easier said than done.
That's why most businesses struggle with video engagement.
A recent survey of publishers and media companies revealed that most businesses, whether indie publishers or comScore Top 100 giants, were dealing with one critical challenge: increasing video engagement.
So the question remains: how do you get viewers to watch your content?
12 actionable strategies to get more live stream viewers
In this article, we'll share 12 actionable strategies backed by research and real-world examples from businesses like Apartment Therapy, SambaTv, and New York Fashion Week:
1. Distribute ONLY where your target audience is
Streaming on multiple platforms can and should be an integral part of your strategy; however, distributing your live streams to every channel without rhyme or reason is highly ineffective.
Thankfully, there's a better alternative — distributing only to channels where your target audience hangs out. To do this, you'll need to consider specific attributes about your audience like their demographic, job titles, gender, etc.
Different social media platforms appeal to different demographics. Although there might be some overlap, it's important to prioritize platforms where your audience matches the majority user demographic.
For example, to target 18 – 29 year-olds, live stream on channels like Instagram, TikTok, and Snapchat. TikTok, particularly, will be your best bet if your live streams target an extremely young demographic.
On the flip side, to reach millennials, Facebook might be a better channel to use, as it's the most used live streaming platform for 25 and 44 year-olds.
Besides demographics, also consider other attributes your audience has to choose the best platforms to distribute your live stream. For example, even though Facebook is great for targeting millennials, if you're looking to reach millennials who are professionals or have specific job titles, LinkedIn will be a better platform to reach them.
A great example of a business that got it right is MIT. They hosted live stream Q&A for a program targeting mid-level executives on LinkedIn.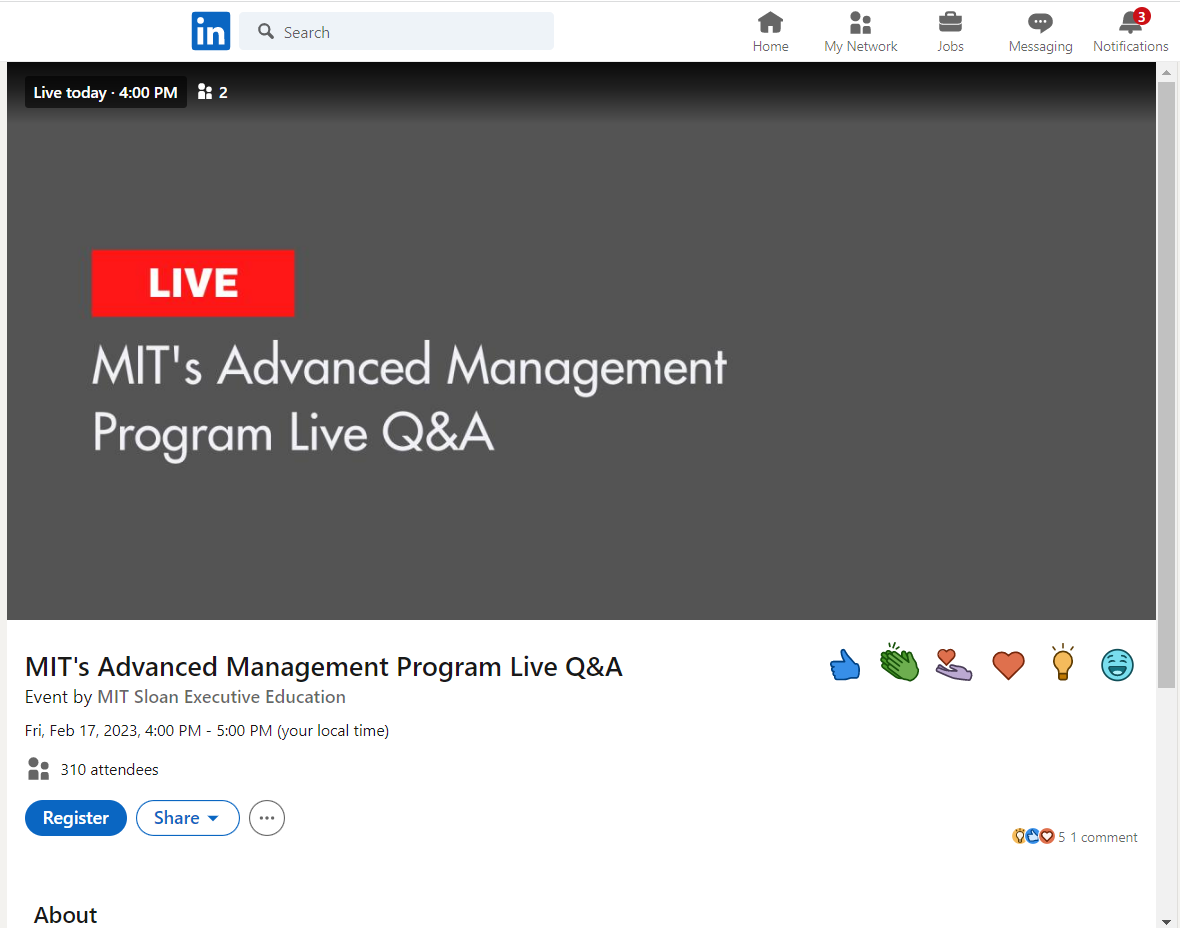 So, whether it's LinkedIn, Instagram, or any other platform, identify where your target audience spends time daily and distribute your content there. This way, you can ensure you get the best results from your distribution efforts.
2. Choose the correct live stream format and topic
If your current live streaming content strategy involves you and your team "creating in a bubble," you might need to re-evaluate your approach.
Ask yourself, "Do you want to create the content you think your audience wants? Or do you want to create the content that your audience actually wants?"
A more effective alternative to starting from scratch is to build from a baseline understanding of proven formats and topics that perform well with your audience.
So how do you choose the right format and topic?
Choosing the right format
Here's a simple truth — there are certain types of live streams that perform better on a particular channel.
Take TikTok, for example. A 2021 study found tutorial content, live product releases, and in-depth product reviews to be the best formats for the platform. Users also preferred collaborative branded live content hosted by creators or celebrities.
Choosing the right topic
An almost surefire way to increase the odds of drawing more live stream viewers is by leveraging "timeliness" i.e., strategically timing and theming your live streams around notable events.
A good example is CNN's YouTube live stream of President Biden's 2023 State of the Union address, which had over 200,000 views.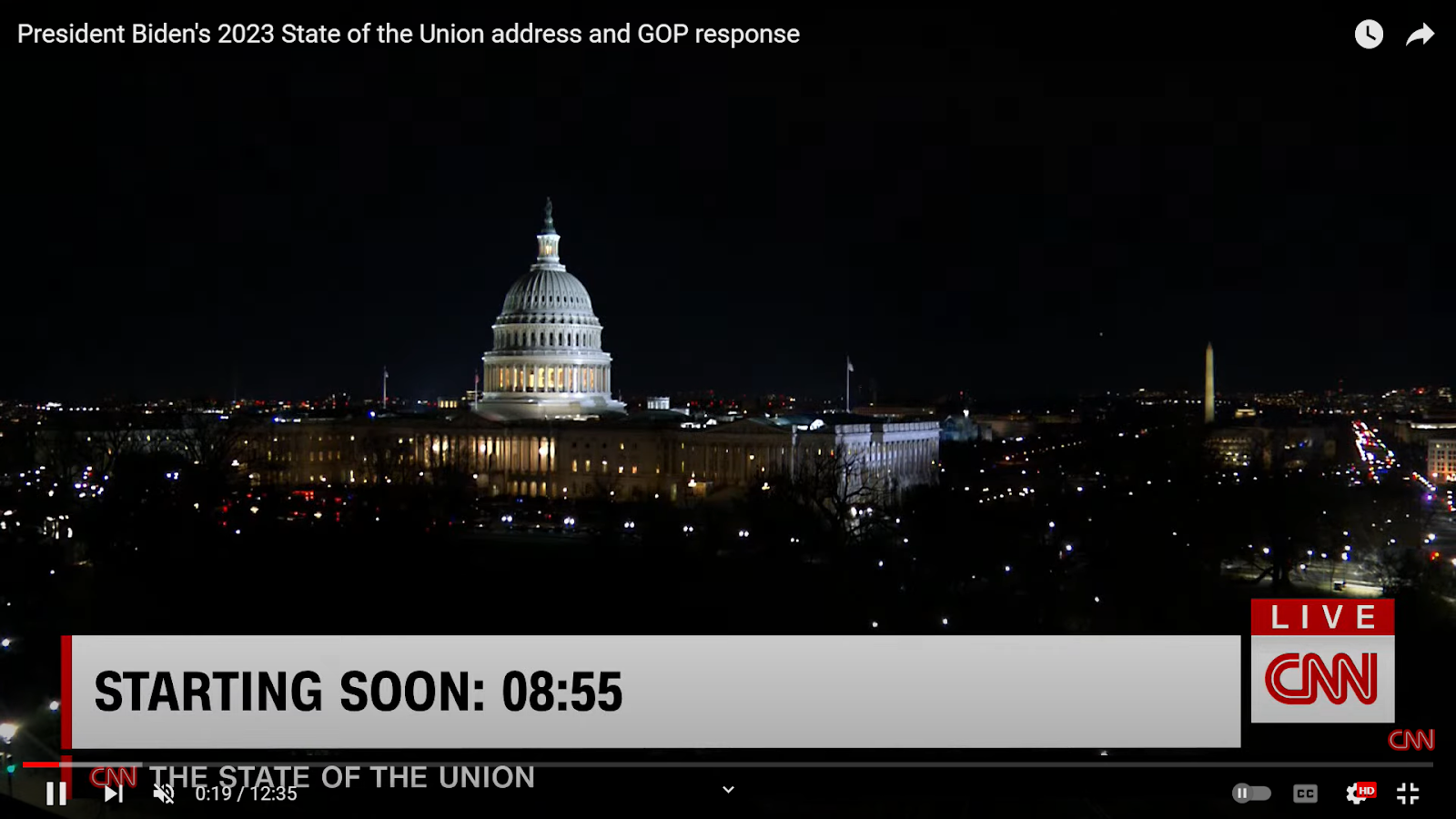 Another example is DER SPIEGEL's coverage of the 2021 US elections, which included live streams and live talk shows centered on the presidential inauguration.
These streams (enabled by JWP), were a tremendous success — DER SPIEGEL was able to rack up over 2 million live-streamed minutes of President Biden's inauguration and generate a 17% YOY increase in AVOD (Advertising-Based Video On Demand) video views.
3. Build owned media channels
Building owned media channels, such as blogs, email lists, etc., is a long-term strategy. But, if done right, these channels can become one of your most important assets. Here's why:
Owned media channels allow you to build an audience with your ideal target persona.
Building owned media channels typically involves permissive marketing, meaning this audience wants to hear from you.
Unlike paid channels, owned media channels allow you to communicate directly with your audience without distractions or competition.
Finally, when you decide to promote to your audience, owned media channels give you complete control over the method and cadence of your live stream promotions.
Adweek's doing a great job using this strategy; they've built a newsletter full of their target audience and use it to promote their upcoming live streams to their email list.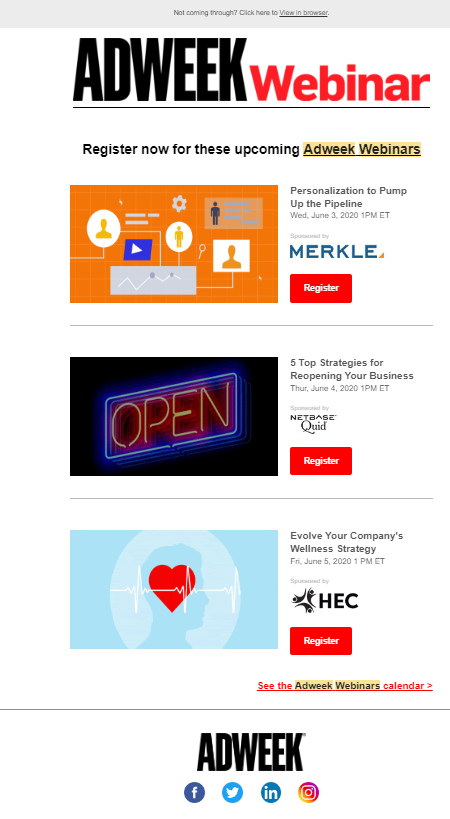 Another great example is New York Fashion Week. They promote live streams of their fashion shows on their website homepage to attract more viewers to their live streams.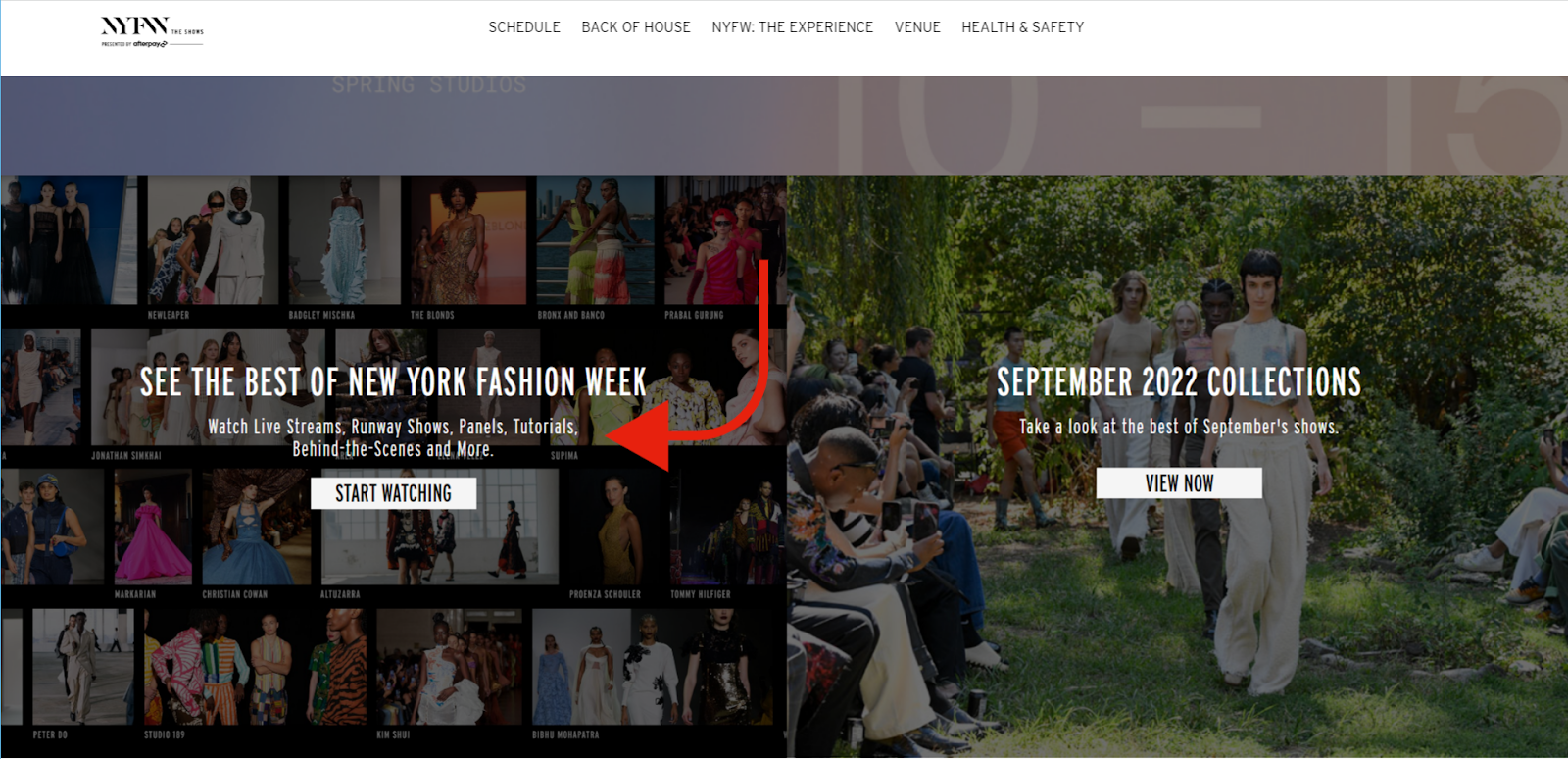 4. Build buzz before the live stream
It's finally time to drum up interest for your upcoming live stream. Your goal here is two-fold:
Build awareness about your live stream
Get as many registrations as possible
Here's how to do this:
Schedule your live stream
This is extremely important because the link you generate is where you'll direct the traffic you drive from your promotional activities.
But how far ahead should you schedule your event? Rob Balasabas, the Brand Evangelist at TubeBuddy, suggests you schedule your live streams across various social media platforms 4 to 5 days before the event.
However, you can schedule much farther ahead if you run your live streams through a solution that allows you to do so. You can build a "live schedule" section on your website where you showcase upcoming live streams like TYT does in the screenshot below: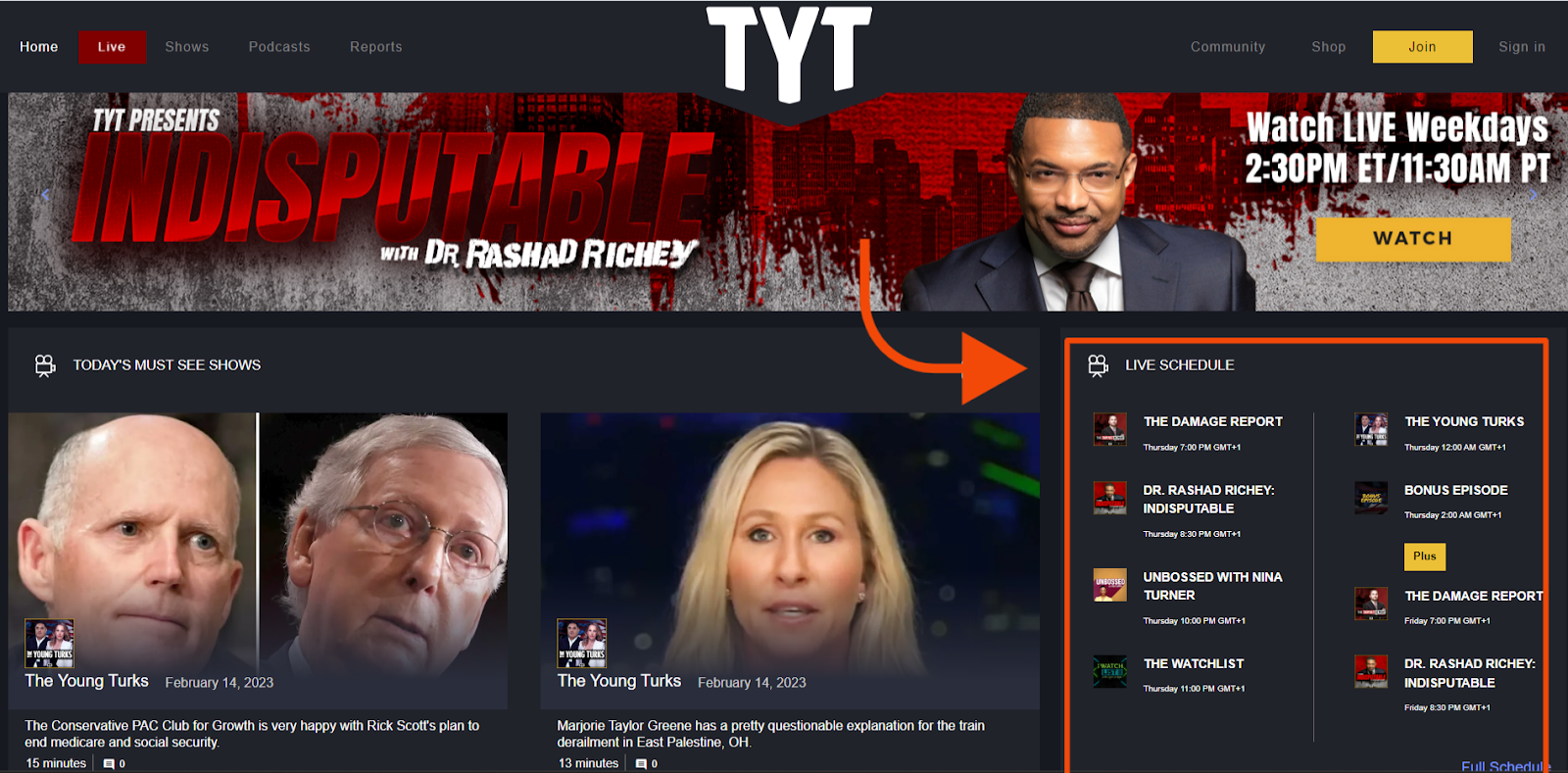 Once you've scheduled your live stream, it's time to start promoting.
Promote your scheduled live stream
There are several ways you can promote your upcoming live stream. But here are 5 ways that are effective:
Share it with your audience through your owned media channels. This could be as simple as including it in an email or article like Tubebuddy does in the screenshot below:

Share it on social media using promotional media like banners, posters, teasers, and promotional videos.
Share it in relevant communities you're already part of (and ideally, engaged in) on platforms like Facebook, Reddit, Slack, etc.
Finally, leverage your network. Reach out to any contacts (social media, coworkers, etc.) that can access your target audience and share it with them.
Start a promo round. This helps you leverage other people's platforms to spread awareness and reach a broader audience. You could try guest podcasting or guest posting on relevant sites, co-hosting webinars, etc.
5. Use complementary partnerships
You can explore partnerships in various ways:
Inviting a guest on your live stream
Adding a co-host
Working with sponsors, etc.
However, for this strategy to be effective, you must choose partners that have similar audiences to you. A great partnership example is between SambaTv and Adweek. The image below is Adweek's email to its list promoting one of SambaTv's live streams.

6. Optimize your live streams for specific devices
Different regions have their preferred mediums for live content.
For example, a Statista study found that North Americans mostly stream video content on their TV screen, whereas Asians preferred watching streaming content on mobile devices.
So if you were streaming to those countries, you'd need to optimize for their preferred device.
7. Leverage multi-streaming to reach more people
Multi-streaming can be a powerful way to amplify your reach. However, it is also incredibly easy to abuse.
Many businesses, unfortunately, adopt a "spray and pray" approach based on the false belief that the more platforms they're on, the better. We've already discussed an alternative approach to choosing distribution channels, so we'll skip that.
Instead, let's discuss tips to ensure successful and hitch-free multi-streaming:
Make live streams work perfectly across all browsers and channels
Irrespective of where you stream, your viewers will access your live streams through various browsers and devices. Add on multi-streaming, and you have even more platforms and complexity.
You could build an in-house solution to solve this problem, but choosing an already-made solution designed to handle multi-streaming is often the more efficient option.
JWP, for example, provides access to the fastest HTML5 Player on the web, mobile SDKs or OTT Apps solutions, and much more, so you can multistream easily.
Ensure your video platform integrates well with all your software
Your tech stack must integrate flawlessly.
So the video platform you use must offer flexible APIs and robust integrations that can handle the scale and complexity of your stack.
8. Ask viewers to share
Asking your viewers to help you share your live stream is an easy way to boost your reach and increase virality.
Here are some places to make the ask:
In your promotional content
In your registration and confirmation pages/messages
At the beginning and end of the live stream
In your follow-up messages after your live stream
Also, when making the ask, you must ensure that you include the following:
A concise description of what the live stream is about
Details about where and when the live stream is holding
A brief request to share the live stream
Clear instructions about how to share the live stream
Any rewards/incentives you might offer for viewers who share it
Including these five things is crucial because they tell your audience what to do, how to do it, and why they should do it.
9. Make it trend on Twitter
Making it to the trending section on Twitter is a powerful way of getting your live stream in front of millions of people.
However, like many other social media platforms, few people (outside of Twitter) can predict the algorithm with 100% certainty.
That said, to get your live stream on the trending list, you need to consider these important factors:
Choosing a good angle. And choose one that'd get thousands of people talking. Why would thousands of people be talking about a specific topic? Here are some of the typical reasons:
A controversial take on a hot topic
An exciting, shocking, or novel occurrence in your live stream
A noteworthy achievement in the live stream
Or maybe just the presence of popular or polarizing characters
Whatever it is, come up with an angle that makes your live stream buzz worthy.
Building up a significant amount of volume/chatter. Twitter's algorithm identifies trending topics by figuring out what is popular on the platform "now," not the day before, and not over an extended period. This means that a trending topic must have enough people discussing it within a relatively short period.
Communicate the specific hashtag participants should use to contribute to the conversation (questions, comments, etc.).
Time your tweets. First, ensure you're tweeting at a time when your audience is active. Also, choose and communicate a set time frame for your conversation to get as much "chatter volume" within a short period.
Get an influencer to start or contribute to the conversation. This can build initial momentum and encourage people to participate in the discussion.
10. Repurpose your content after the live stream
Repurposing your live streams is a step that's easy to ignore, especially if you have a vast content library.
But don't underestimate the compounding effect of a live video content library that steadily gets views over days, months, and years.
Here are three ways to effectively repurpose your content:
Add your live stream to a playlist or content bank
This strategy doesn't technically count as repurposing; however, it is one of the most effective ways to increase playback views.
And a great case study of how effective this strategy can be is Investopedia. In 2017, Investopedia started using JWP to identify related videos and aggregate them into playlists automatically.
Although this strategy took almost no added manual effort on their part, the results were incredible: video plays from the JWP Recommendations engine accounted for about 45% of total video streams across the site and 40% of video advertising revenue that year.
Create and distribute short clips
This is a popular one. Create shorter video clips and distribute them to promote your longer live videos.
A real-world example is Eurosport's YouTube channel where live-streamed content is repurposed as shorter YouTube videos.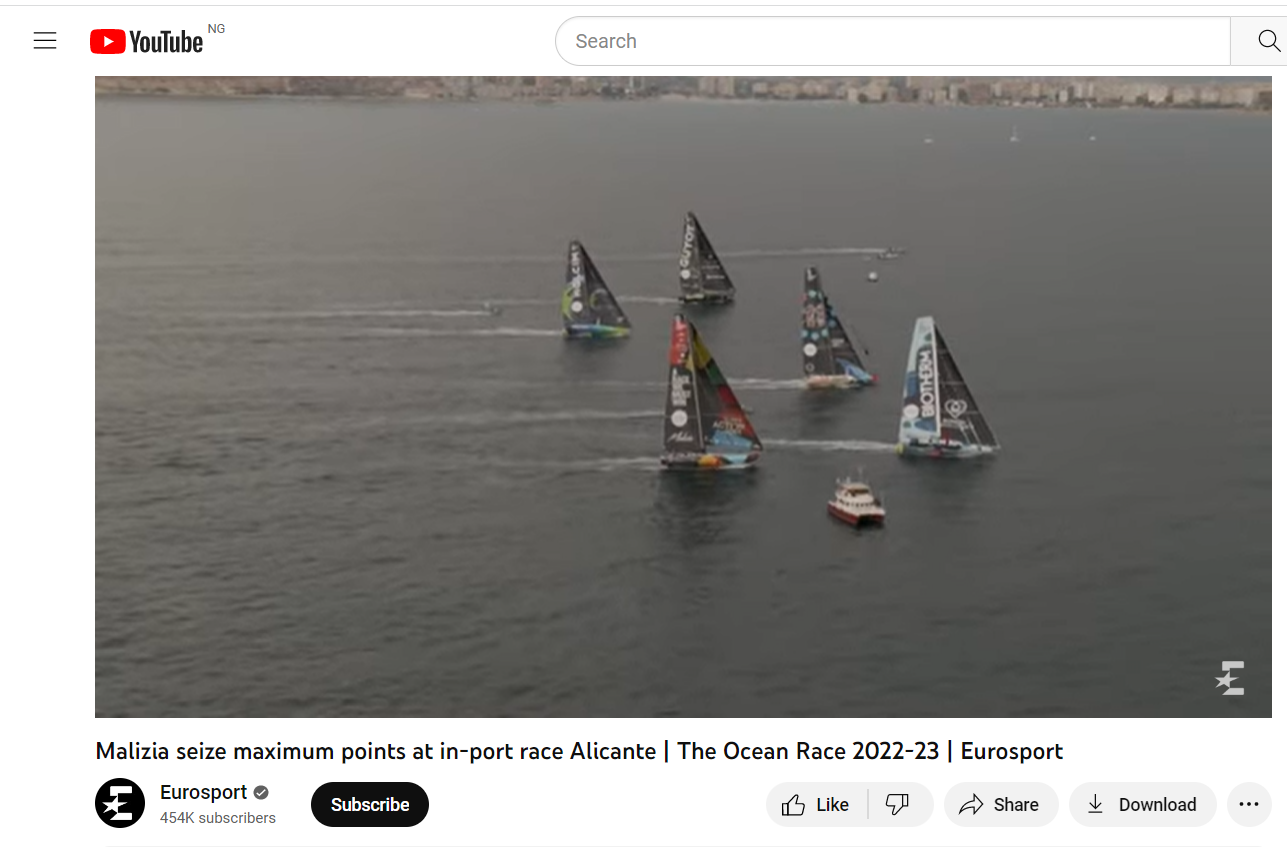 And where exactly should you be distributing these clips? Here are some suggestions collected from a recent survey of film and TV media companies:
Post them on social media (63.8%)
Put them on your organization's website (59.6%)
Syndicate them to a partner (31.9%)
Merge them with other assets to create a longer broadcast (29.8%)
Repurpose your live streams into other content formats
Besides driving traffic to your playbacks, this strategy also helps to create several new standalone content marketing assets.
Here are some formats you might want to consider:
Blog posts or articles
Social media content
Audio podcasts
Newsletters
11. Optimize for search engines
An effective search engine optimization (SEO) strategy will serve you for months and years. It is also a cost and labor-effective alternative to some of the strategies mentioned.
One super effective video SEO tactic is to embed your live videos into existing articles already ranking for relevant keywords, you can immediately start "piggybacking" off those articles and driving more viewers to your live streams. Simple but highly effective.
Apartment Therapy and Kitchn are already using this strategy to significantly improve their video plays and completion rates by as much as 36% and 17%, respectively. But there's a caveat: doing this manually at the scale required for most larger publishers is borderline impossible.
For example, both brands in the above example implemented this strategy using a JWP feature called Article Matching. This feature automatically inserts the most contextually relevant videos into published "text-only" pages by matching data from the page (HTML or open graph titles, page description, and metadata) against the metadata of videos in the user's library.
So to realistically implement this strategy, you must choose a platform that's advanced enough to provide this capability.
12. Keep promoting the stream even after you go live
For many people, the promo push for their live stream ends the moment they go live, only to be revived momentarily by the obligatory post-live email broadcast.
However, there are several ways to improve your view count even after your live stream has started.
Embed your ongoing live stream in social media posts and high-level, high-traffic pages on your website (like your homepage). See how ESI Africa does it below: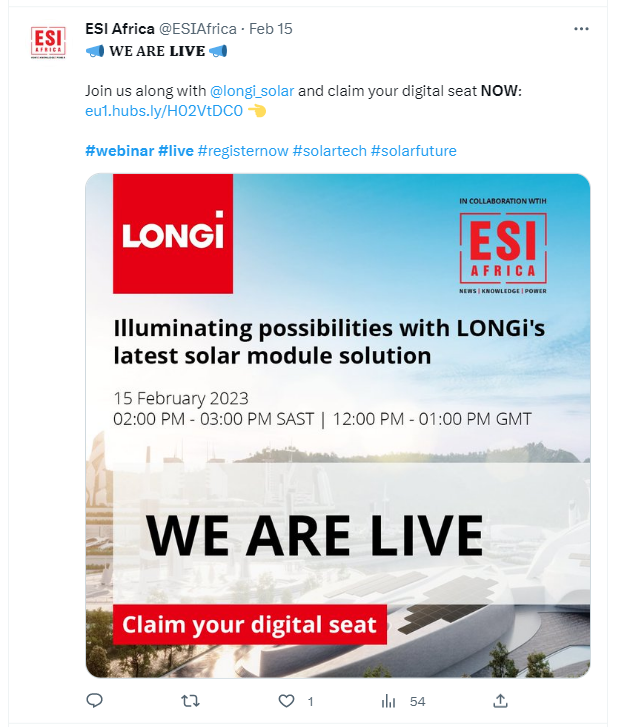 Share real-time highlights from your live stream on your social platforms and blog. A simple way to do this might be through a Twitter thread, while a more advanced method would be to share actual video clips from the live stream using a feature like JWP's live clipping.
Pay to promote your video using platform-specific ads." For example, Facebook allows you to run ads to boost your live videos during and after the broadcast. However, this feature isn't available for all users yet.
But even aside from these, you can do so much even while your live stream is in progress — including creatively implementing some of the tactics already listed under previous strategies.
For example, a simple tactic would be to ask your viewers to share the live stream when the event starts. But a more interesting approach might be to move the conversation to social media by asking viewers to share their thoughts or comments in real-time using a specific hashtag.
So your plan to get viewers for your live stream can and should include promotional strategies pre, post, and during your live stream.
FAQs on how to get live stream viewers
Let's answer a few more questions you may have about getting live stream viewers:
Can you buy live stream viewers?
The short answer is yes, you can.
But the real question you should be asking is, "Should you buy live stream viewers?"
The most obvious concern is that nearly all platforms frown on the practice as it's a spammy tactic. It can easily get you banned, and it's impossible to scale without spending an absurd amount of money, has zero longevity, and provides no real business benefit.
What are some major mistakes to avoid when promoting a live-streamed event?
Not scheduling the live stream in advance.
Not allocating enough time and resources for a comprehensive, multi-channel promotion strategy.
Not leveraging partnerships and networks to expand audience reach.
Not enlisting viewers as part of your promotional team.
Not optimizing pre-promotional marketing toward attracting sign-ups.
Not leveraging owned media channels.
Not optimizing the live streams for search engines.
Stopping all promotional activities once the live event begins.
What are some best practices for live streaming?
Be consistent
Review your analytics and optimize accordingly.
Strategy and content quality are equally important. One will not work without the other.
Boost User Retention with JW Player
If these 12 steps sound too daunting or you're ready to take it to the next level, consider JW Player's live streaming platform.
With JW Player, you can deliver the highest quality broadcasts and live streams to global audiences on any device.
What's more, it's fully customized to fit the specific needs of your brand with minimal development needed to launch.
And if you're looking to drive incremental views, leverage JWP's recommendations engine, motion thumbnails and curated playlists.
JWP incorporates real-time proprietary data gathered from your viewers to create actionable insights.